Venue
This year SIROCCO will be held in Helsinki, Finland. The conference venue is the main building of Aalto University School of Business, situated near Helsinki city centre. The address is Runeberginkatu 14–16, Helsinki. See below for a map.
Conference talks take place on the 3rd floor, in hall A-301. You will also find the registration desk near the lecture hall.
Coffee will be served in the same building, on the 2nd floor, in front of Nokia hall.
Lunch will be served at Restaurant Helka, which is a 5-minute walk from the conference site.
Social Programme
On Wednesday, we will have a cruise on Schooner Linden, departing and arriving on Halkolaituri, and after that we will have conference dinner at Katajanokan Kasino, which is a short walk from Halkolaituri.
Before the cruice, we will have a walking tour from the conference site, through Helsinki city centre, to Halkolaituri. The distance is approx. 2.5 km, it will take approx. 40 minutes, and we will see many of the key attractions of the city centre along the way — see below for a map. If you would prefer to avoid a long walk, you can also e.g. take tram number 2 to Market Square and walk from there to Halkolaituri, or try Helsinki city bikes.
After dinner, you can walk back to the Market Square and then e.g. take tram 2 or simply walk back to your hotel if it is not far from the city centre.
Internet Access
There are two wireless networks available in the conference building:
Lecture Hall
In the lecture hall, there is a Windows computer that you can use to give your presentation. Both PowerPoint and Adobe Acrobat are installed in the computer.
Alternatively, you can connect your own laptop to the projector. There are both HDMI and VGA connectors available, and it works fine with Mac laptops with the usual adapters.
Slides with a 16:9 aspect ratio are preferred, but 4:3 will work, too.
Map
Click on the map to see it in a larger scale.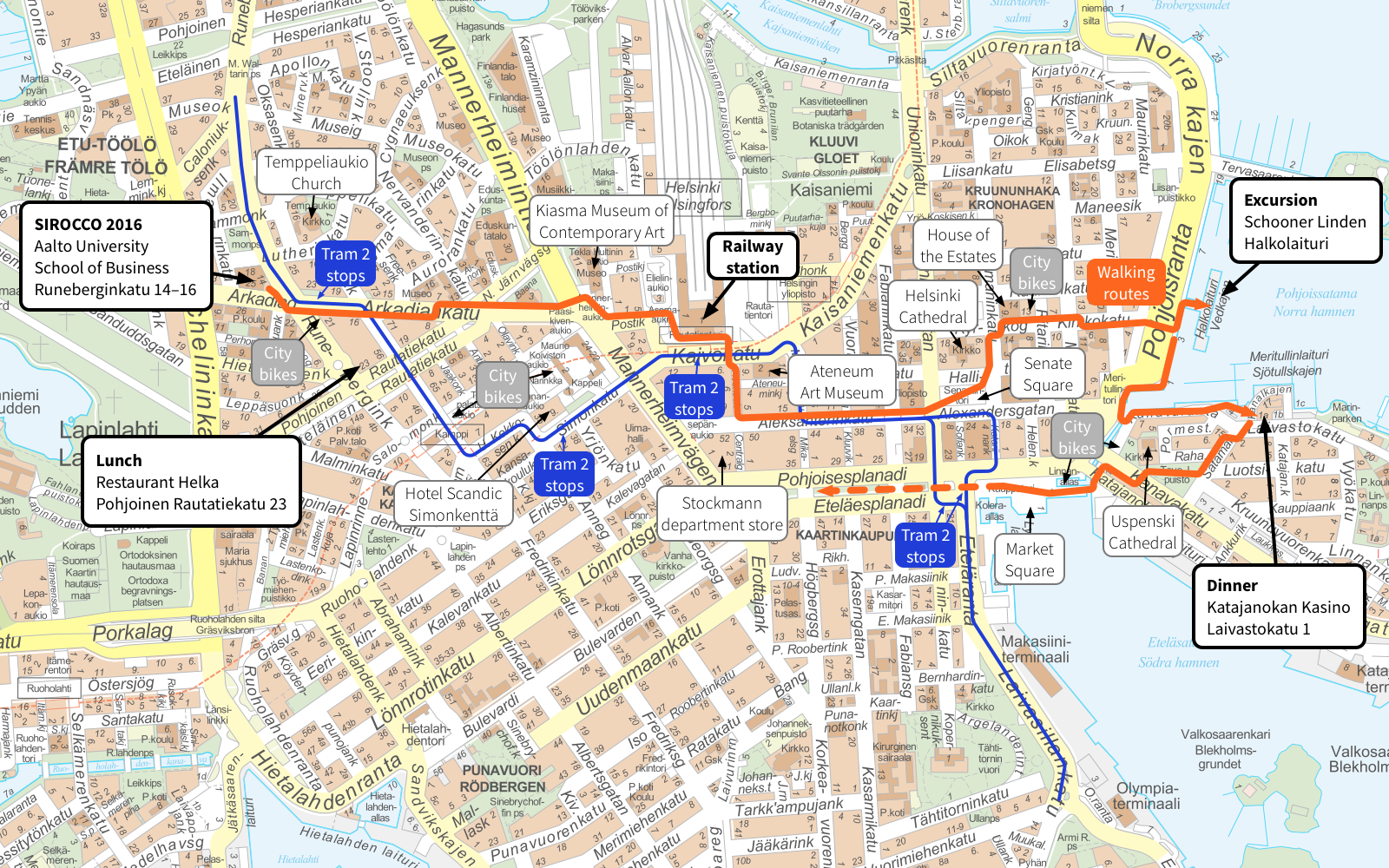 Additional maps:
Travelling
Getting to Helsinki Airport
There are lots of direct flights to Helsinki Airport, especially from Europe and Asia.
Here are some examples of destinations and flight times: Beijing 7:50h, Tokyo 9:45h, New York 8:40h, Chicago 9:15h, London 3:10h, and Frankfurt 2:40h.
Getting to Helsinki City Centre
There is a direct train connection from Helsinki Airport to Helsinki central railway station. The trip takes 30–35 minutes and costs 5.50 euros (see below for more details).
You can also arrive to Helsinki by train from St. Petersburg (3.5h), or take a ferry from Tallinn (a couple of hours) or Stockholm (overnight).
Getting to Conference Venue
The conference venue is just a 15-minute walk from the central railway station.
There is also a tram line (tram number 2) that conveniently connects the conference venue, Kamppi shopping centre, Kamppi metro station, the central railway station, Senate Square, Market Square, and many of the main tourist attractions in downtown area. Some of the most relevant tram stops are also marked in the map above.
You can also try Helsinki city bikes — it is best to register in advance to get the access code. Here is a video that shows how to use city bike system (in Finnish, but with English subtitles).
Getting Around, Buying Tickets
Check the HSL Journey Planner for public transportation options in Helsinki. All local trains, metro, trams, buses, and the ferry to Suomenlinna use the same ticket system — see HSL web pages for information on the ticket prices. Note that Helsinki Airport is located in Vantaa, so you will need a regional ticket (5.50 euros) for the airport train connection, while for most other trips a Helsinki internal ticket is fine (3.20 euros).
Here are more detailed instructions for the most common needs:
In trains, there is ticket sales in only certain cars. If you do not have a ticket when you are boarding a train, see the signs outside the train to locate a ticket sales car.
Accommodation
Here are some suggestions of places to stay in Helsinki — these are also shown in our map, together with many other hotels. We have got some room blocks reserved with a fixed room rate, but as usual, it is also a good idea to check the current room rates directly via the hotel web sites and the usual hotel reservation sites such as Booking.com and Hotels.com.
We have reserved room blocks for Monday–Thursday 18–21 July 2016 in the following hotels and hostels.
Hotels
Hotel Scandic Simonkenttä Helsinki:
Hostels
Practicalities
Registration
Contact Information